A Cane Corso is a very personal dog and wants nothing more than to please their owner or family. They form an unbreakable bond with their family. A Cane Corso wants to be close to their owner at all times and are noted for their extreme loyalty. They adore children of all ages and play with a natural awareness to size and gentle expression. They are very easy to obedience train but will require strong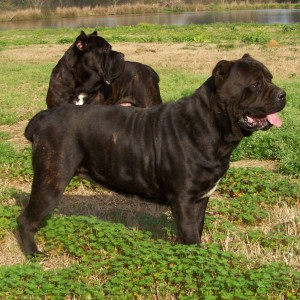 leadership and heavy socialization to correctly mold their natural protective instinct.
The Cane Corso is a very useful breed in terms of work, protection, and family companionship. On the farms they can take different roles of use. Protecting a flock comes natural to them as well as baying and baiting hog and cattle. They are also very powerful hunters of large and or dangerous game. They have been successfully used in protection sports and guardian duties in heavily stressful theatres of action. In the home they are very calm, loving, and playful with their family.
A Cane Corso is highly suspicious of new people and aggressive behavior should never be encouraged or rewarded if no threat is present. This suspicion is always present even after proper training, but it is molded to understand the difference between friend and foe. Protection training with the Cane Corso is not necessary, nor is it recommended unless specific needs are in order such as commercial protection. Protection of family and property is natural to the Cane Corso. They have a remarkable intelligence level and easily adapt to all lifestyles, but must be raised accordingly. They are known for their quiet nature and to only bark when needed.